Crafting a Truly Unique Brand
---
Every client has a different problem to solve and message to convey. This is why having a process that utilizes a range of creative methods is so important.To deliver a message in a way that is both successful and unique, having a variety of tools to utilize is essential. For the modern day designer, it can be tempting  to use only one medium, the computer. With incredibly responsive programs, vast capabilities, it can be easy to overlook mediums that can play such an important role in designing a brand that is truly unique.
Next time you are in a store, take note of the package design surrounding you. Many of them will feel similar, or convey the sense that the company does not value the product they offer. With thousands of free fonts and images readily available, it's easy to get lost in the crowd.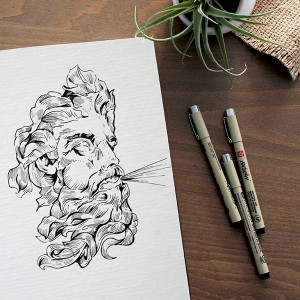 So, how does a designer continue to bring fresh life into design, to express vision in a way that is completely individualized? At Watermark, we have found that using our hands to begin every process is essential in achieving this. Using mediums such as pen & ink, pencil, watercolor or paints guarantees organic freedom in exploration. Even against any design program, the speed and freedom you have on paper to brainstorm and generate ideas is unparalleled. Next time you open a design program, take note of how many tools there are that try to mimic art that we create with our hands. They exist because what we create with our hands is unique, and that is highly desirable. With that being said, there is tremendous value in the ever expanding tools offered by design programs. There are often times when a final vision doesn't reflect any artisan craft – but sketching will always remain a part of our process, even if it does not always transition visually into the piece. There are fewer limitations and more creative freedom with the merging of hand crafted work with digital design. Below are a few examples of our hands-on process merged with today's technology.
Watercolors were used to help achieve the vision we had for the Rosemont of Virginia Sunset Series. Merging the classic label with watercolor creates a one of a kind label.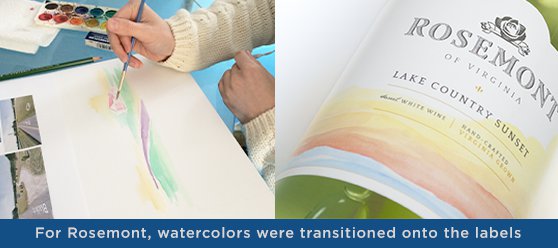 For the Odo and Adeliza Reserve wine label designs, pen & ink was the medium of choice that best translated our vision. Stippling and cross-hatching were utilized to create the worn castle details. Both techniques lend well to creating fine details that can be reproduced at a very small scale, and maintain detail. The illustration was scanned and vectorized, guaranteeing its detail and clarity remained once printed.

The Watermark Holiday Card is another example of modern technology merged with traditional illustration. The card was illustrated in pen and ink, then laser engraved onto wood cards. While wood engraving has been around since the 18th century, utilizing laser engraving enabled us to achieve our vision of printing intricate details on a post-card size sheet of wood – a technique that has not been possible until recent years.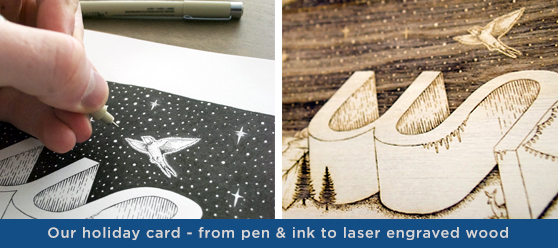 If you are looking to craft a truly unique brand, start by choosing the right craftsperson.