5 Steps to Branding Your Brewery
---
Starting up a brewery? With the skyrocketing number of microbreweries opening in the U.S. (according to the Brewer's Association, as of 2013 a whopping 1,400 span across the United States, breaking down into approximately 1.5 opening every day), there is a lot of competition on the shelf. It is important to define who you are through your branding. A brand encompasses everything you are, from your story, to your name, to your logo and a 'look'. Even your attitude on social media and the way you speak about your brewery can be defined within your brand. Here are some steps to start with when figuring out who you will be perceived as:
1. Understanding Who You Are! What is your story? Is it defined by your location or background? Your brewing style? The people in your community? Your employees and followers? Your Attitude? Your name should reflect what you want your audience to embrace about you. Here is a great article on the ins and outs of picking that perfect name.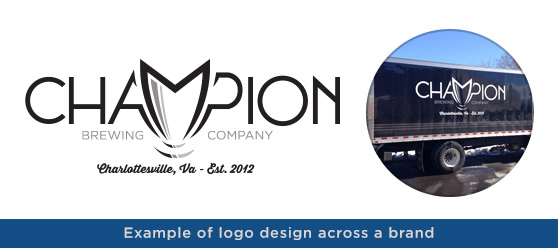 2. Logo Design. Don't take this lightly. This is the singular graphic that will stand the test of time and be the lifeblood of your brewery's brand. It will often be the defining graphic that people identify you by on shelf.  It will go on every piece of merch, every label, every advertisement, social media, sponsorships, your website and will be the touchstone for you brand for years to come. There should be a discovery process here to understand who you are, then you and the team you choose should look around at other brands out there and define what you like and don't like (doesn't need to be breweries! It is important to speak visually, as verbal descriptions of 'cool' or 'rough' can mean different things to different people and might coming out not looking like what you wanted.) Check out more logo examples here.
3. Choose Your URL. Start with your name… is it available when you go to Godaddy and type it in their homepage? Pick a URL that works for SEO too – add brewery on the back of the URL for help when people are searching for breweries to visit! And keep in mind that customers are unlikely to remember to add a dash or a weird extension, or how to spell something complicated… make it easy.
4. Message & Attitude. How do you define your brewery and what stances do you take? How do you approach your brewing style? Are you by the books to BJCP guidelines or are you a little more off-the-wall? Messaging varies wildly from a more conservative and elegant approach to your labels (think Goose Island's Bourbon County Series) to a playful and outlandish theme (Such as Against the Grain).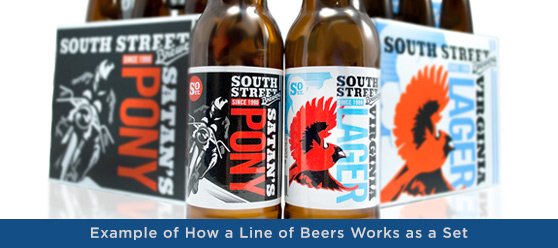 5. Building out your Brand. Once your logo is complete, you can start building your identity around it. The logo will likely define a direction with fonts, colors and style. Next steps might include social media graphics, your website, label/packaging design, tasting room/environmental design, marketing collateral and advertising – this is where the fun begins! Check out more label design and packaging examples here.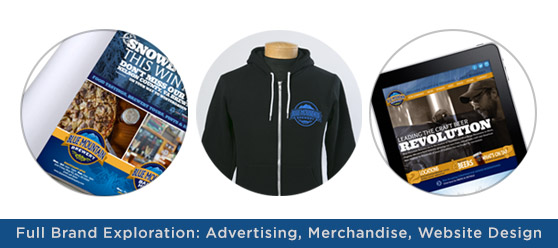 Helpful Hints:
Don't forget to search for other competing brands under the same name (start with google and end with a trademark attorney once you think you have nailed the name you want)… you could unknowingly be stepping on someone's toes, and this can come back to bite you
Do a trademark search for your logo as well. Hire a professional to do at least a basic search to ensure that your design isn't encroaching on someone else's
Check out some of our recent brewery branding here.