The next wave of craft in a can : Wine
---
Canned wine sales have more than doubled in the past year, growing 125.2 percent, according to new Nielsen data (July 2016), especially in table wine (as sparkling in a can was already on the rise).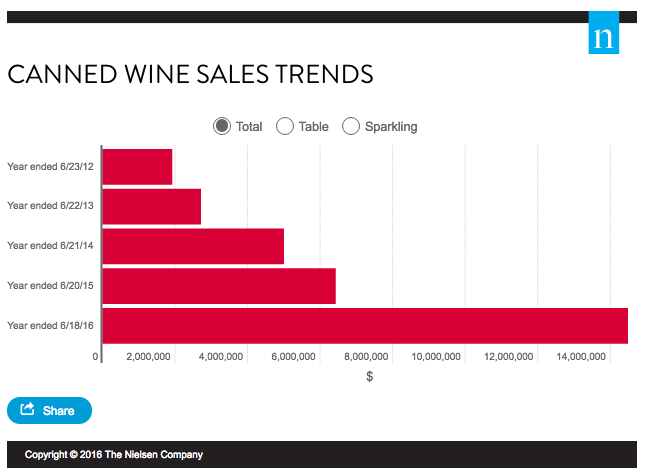 With brands like Underwood, Francis Ford Coppola, Fiction and Alloy leading the charge, wine in a can is now trendy. A great option for BBQs, Pool Parties, Camping and Outdoor concerts, where glass is not allowed or is not convenient. In an age where experiences are valued more than possessions, travel is up, and portability is key.
Pop Culture Blogs are helping the trend along significantly:
Brit + Co : https://www.brit.co/wine-in-a-can/
Refinery 29 : http://www.refinery29.com/best-canned-wine#slide
First We Feast : http://firstwefeast.com/drink/2015/10/best-canned-wines-to-crush
Mashable : http://mashable.com/2015/11/25/mancan-can-wine/#AHnJ7kIvQuqw
Even Wine Enthusiasts and blogs like Wine Folly:
http://winefolly.com/update/the-lowdown-on-wine-in-a-can/ agree that there is no metallic taste and the wine inside is not diminished by the package.
Even cocktails are getting on board! Check out our branding & package design for Wheelhouse Canned Cocktails here.
This trend is definitely one to consider, especially if your winery is located in a warm weather climate, or you have a younger demographic. They are looking, so get out there! (and give us a call if you need help with the can design!)