Creativity & Client Talk
---
By Jena: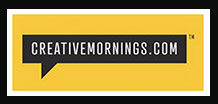 Sometimes, music just doesn't do it for me. When you spend most of your days at a desk (sitting or standing) it's important to find things to keep your creative juices flowing. When music isn't cutting it, I usually switch to my other go-to: Creative Mornings*. Creative mornings is a breakfast lecture series for the creative community (available to watch for free & updated regularly!).
Recently around the Watermark office, we've been chatting about Michael Bierut's talk titled "Let's Talk about Clients". Michael Bierut is not only a legendary graphic designer but an intellectual that casually sprinkles humor into his lectures. In part of this specific talk, he discusses what qualifies a great client and what a designer can do to help encourage a great client.
In summary, Michael says that a great client should have Brains, Passion, Trust, and Courage. Although we agree that all four are ideal, the one that we often discuss here at Watermark, is Trust. When clients begin to trust us and the work that we do, we like to call it the "Client-Trust-Tipping-Point".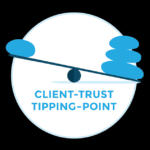 What is the Client-Trust-Tipping-Point you ask?
We have found that there is this moment that (hopefully) comes along when a client says, "You know what? I trust you – Just do what you do".  Everyone is different, so naturally people have different trust thresholds. Some clients trust much later than others – And that's okay! Often, clients approach us with a clear vision for something, which we always respect because no one knows their business better than them! However, over time, we too become a part of their business and grow to have a very strong understanding of who they are. We basically become their in-house design team. What can we do to establish and earn trust (according to Mr. Bierut)? Provide Loyalty, Honesty, Dedication, and Tenacity. We couldn't agree more. We earn our client's trust through our dedication, our transparency and our tenacity to do the best for their brand. And it's so worth it! When that trust is given and earned, we can suggest something to the client that they have never imagined possible. We are pushed, creatively, as the perimeters grow. This is where the best design is born!
So, if you're like me, and you crave these external sources of creativity throughout your day…start tuning in! After listening to one lecture, not only do I feel inspired, but it can start a discussion within the office that ultimately leads to better work and happier clients. And who doesn't want that?
*Exhausted all Creative Mornings? Try Ted Talks, Radio Lab, or Design Matters