Canned Cocktails, Taking Craft Spirits on the Road
---
You know when the big boys start canning cocktails, it's time to get in the game. From Ballast Point to Cutwater Spirits, everyone is diving in.
Why can your cocktail?
Portability:
It's tough to stuff 2-3 bottles plus a mixer in your backpack or beach cooler, but a few cans of your favorite bartender-crafted cocktail? No problem. Plus it solves the age old problem of 'no glass in the pool area'. "In fact, 90% of regular drinkers who plan to drink this summer say they will drink outdoors," said a Nielsen report.
Extending your spirits line:
Cocktails need spirits, so selling your spirits as a ready-made cocktail is just a natural extension of your product line, as a craft distillery.
Time:
If you are in the whisky world, you are waiting years on end for your product to be ready, so this line extension allows for sales sooner and in between.
The market:
Canned wine sales are on the rise, more than doubling from 2015-16, as people adjust to the idea that quality can be contained in a can. Much like the way beer transitioned from bottles to cans, wine and cocktails are following along quickly. Also on the rise is the concept of prioritizing experiences and adventure in life, so having a product that travels well translates to a younger audience. You can have your cake, and your artisan cocktail too.
Tips for translating your craft spirits into a canned cocktail:
Convey whats in the can through color:
Wheelhouse's cocktails are light and refreshing, and never too sweet, so a white can conveys an airy, open feel. Each can features a custom illustration of the ingredients to further communicate what is contained within the can. The color of the ingredients adds to the message of light vs dark flavor profiles.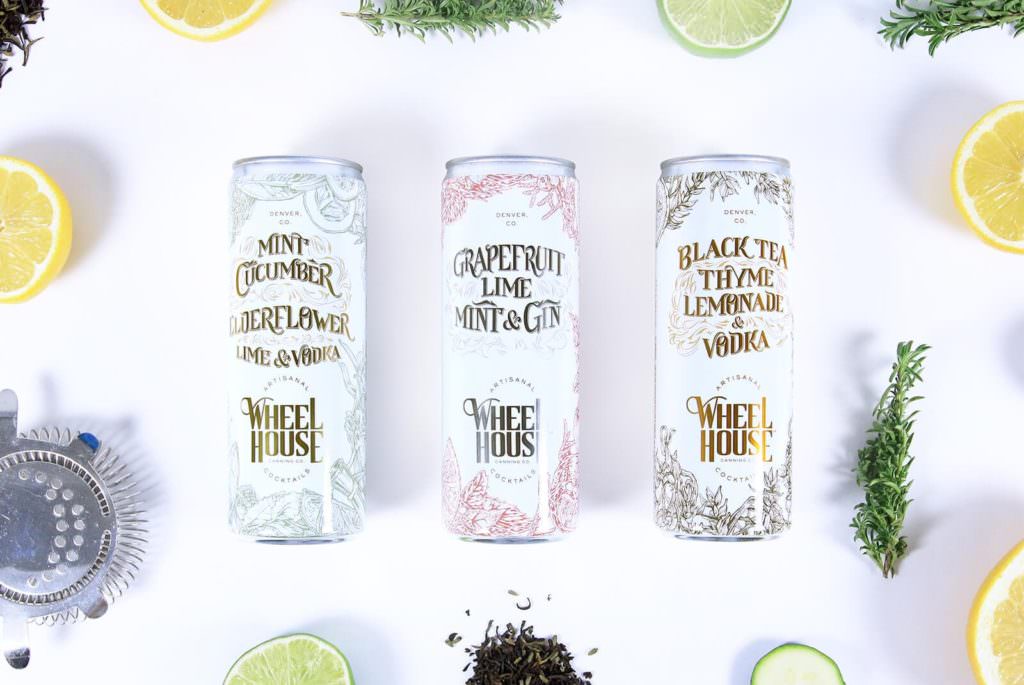 Slow and Low is a whiskey cocktail, so a darker colored can conveys the old fashioned contained inside.
To sleeve or to print direct to can?
Check out our article on Craft Brewing Business discussing the pros & cons of sleeves vs. direct print. If you need something quickly, sleeve it. The downside is that your cost per can will be higher, but that is the cost of convenience. Labels are another option that many breweries are moving toward, for cost and speed.
The below image shows (left to right) an example of 1. direct to can printing 2. a shrink sleeve on a can and 3. a can label sticker, all Champion Brewing Company's cans. On the right, you can see that Champion produced custom black cans to enhance their can sticker and also convey their brand by using their primary brand color on the can. This is important when going the sticker route, as more of the can substrate will show.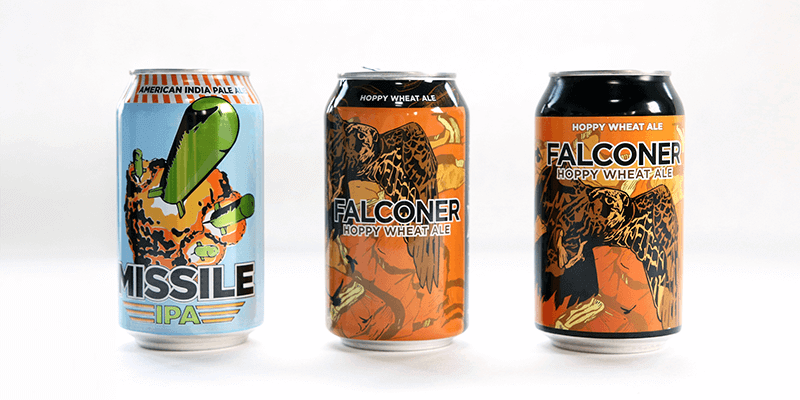 Standing out on Shelf : 
As more players enter the canned cocktail market, you will need to compete on-shelf.
According to Nielsen,
"Package design reaches 100% of likely buyers at the first moment of truth where 50-80% of purchase decisions are made."
You need a partner who can evaluate the existing market and design a can that both conveys your brand and type of product, but also competes with whatever it ends up next to on-shelf. When selecting a design partner, look for experience in the alcohol/beverage space, as this category is new to the TTB, so navigating approvals is easier with someone who has done it before. Explore their portfolio and see if they have examples of work close to the aesthetic you desire. And then give them a call, as it's always good to find a studio with a personality that meshes with your own. After all, you will be spending a lot of time working together to bring your vision to life.
In summary, get out there! This category is growing fast and the first brands out of the gate will have more space with less competition.
Looking for someone to help your through the process and design a can that sells? Give us a call, we'd love to hear from you!